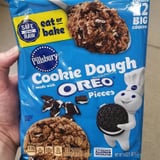 View this post on Instagram

A post shared by CandyHunting (@candyhunting) on
Dessert-lovers, prepare to indulge in unbaked cookie dough goodness, because Pillsbury's new Cookie Dough With Oreo Pieces doesn't even require you to preheat the oven before you enjoy it. The cookie-filled dough, spotted by Instagram user CandyHunting at Hy-Vee, is safe to eat raw and available in packs of 12 big precut cookies, which are twice as large as the brand's average cookie. Pillsbury and Oreo have yet to announce a nationwide release date for the delicious dessert, but you can bet we'll be keeping our eyes peeled in the refrigerator section until then. In the meantime, find out how to make your own homemade Oreos and even an Oreo mug cake.
Related:
These Boozy Pudding Shots Come in Decadent Flavors, and You Can Get 'Em Delivered to Your Door