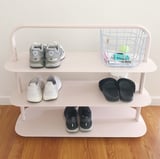 This year, I moved into a new apartment, and while it's nicer than my previous place, it's also smaller. My old house used to have a large entry space where I had a coat hanger, a shoe rack, and even a console table for mail. Now when you enter my new space, it's just a long narrow hallway leading into my home. There's nowhere for shoes or storage. For months, my boyfriend and I had junk piling up by the door and it was so frustrating. Since entryways are the first impression of every home, I decided to go on a mission for the perfect solution.
In recent years, I've been sucked into buying cheaper options for home organization. I learned that not only does the quality never last, but they also aren't the most stylish. One of my favorite brands that offers chic and useful organizing finds is Open Spaces. Its minimal designs speak to my style and home aesthetics. I already own a few products from the site and always had my eye on its cool Entryway Rack ($138). Although the price is higher than I originally wanted to spend, the investment of a functional and cute piece is worth it to me.
I went for the pastel pink choice, because I love more neutral shades, but thought it would...