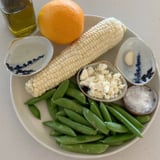 View this post on Instagram

A post shared by Cameron Diaz (@camerondiaz) on
Cameron Diaz whipped up a summer salad that immediately gained Chrissy Teigen's seal of approval, and the recipe only takes 10 minutes to prepare. The actress and new mom shared a video tutorial for her roasted corn and snap pea salad, and I'm going to need a huge bowl of this waiting for me in my kitchen ASAP, please. Made with just eight simple ingredients, the dish combines the sweetness of snap peas with crispy, roasted corn and salty feta for a side dish worthy of any BBQ or family dinner.
"Cameron Diaz can really cook," Chrissy said in a tweet on July 28. "I love watching her stories. [She] says actually informative cooking tips and her knife skills are great and embarrass me. I need more!" Read ahead to recreate the star's salad for yourself and find out just how long it takes to achieve the perfect amount of caramelization on each kernel of corn.
Cameron Diaz's Roasted Corn and Fresh Pea Summer Salad
Notes
When the corn is roasting, you may need to top the skillet with a lid to prevent it from popping out of the pan.