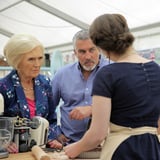 If you're looking for a reality competition show that's entertaining, fast-paced, and unfailingly polite, then you'll want to tune in to The Great British Baking Show (or The Great British Bake Off, as it's known in the United Kingdom). Every season, a new crop of talented amateur bakers face off in a 10-week competition, taking on challenges and whipping up desserts until only one baker is left standing. While the show is based in the UK, it's gained a huge following in the US ever since past seasons hit Netflix, and we finally have an answer about season 11's premiere date! The show will premiere on Channel 4 in the UK on Sept. 25, with new episodes being posted to Netflix every Friday, HuffPost confirmed. So even if you're in the US, you can watch concurrently with the UK instead of binging the entire season at a later date.
Related:
Where Are the Great British Baking Show Winners Now? Here Are the Updates!
The Channel 4 series was supposed to start filming in April, but due to the COVID-19 pandemic, Love Productions made the decision in March to...