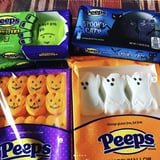 View this post on Instagram

A post shared by Tiffany Tweedie (@ttweedie) on
We never thought we'd see the day, but Peeps has announced that it will not be releasing its beloved Halloween- and holiday-themed treats this year, leaving a marshmallow-sized hole in our hearts. That's right, seasonal favorites like the brand's sugar-coated jack-o'-lanterns, Christmas trees, and hearts won't be hitting shelves for Halloween or Christmas this year or Valentine's Day early next year.
Just Born Quality Confections, the company that produces Peeps, said in a statement that it suspended production back in April to protect the health and safety of its employees during the ongoing COVID-19 pandemic. While the company resumed limited production in May, it decided to forgo production of seasonal candies for Halloween, Christmas, and Valentine's Day to focus on "meeting the expected overwhelming demand for PEEPS® for next Easter season, as well as our everyday candies." The company typically produces two billion marshmallow confections a year, and with a cutback in production, we won't be getting nearly as much marshmallow goodness as in years...