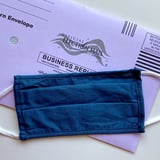 With the COVID-19 pandemic and United States Postal Service funding issues affecting people's ability to vote in the upcoming election, many are worried about making sure their voices are heard. However, additional options for mail-in ballots are available, and voting is more crucial this year than ever. And despite the narrative President Donald Trump has tried to push about vote-by-mail fraud, mail-in ballots are extremely dependable. Around 50 percent of Americans don't vote, but we can improve that and change our country for the better. If you're opting for a mail-in ballot this year, here are different places to drop it off to ensure your vote is counted.
Return Your Ballot to a Drop Box
If you request a ballot, you can return it by placing it in a local drop box. These boxes are monitored by cameras or election workers at all times. The boxes can be found near libraries, college campuses, public-transit routes, city or county offices, community centers, and more. The number of drop boxes varies by state, but the United States Election Assistance Commission recommends counties install one drop box for every 15,000 to 20,000 registered voters. Check with your local...