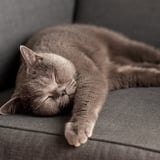 As someone who has taken in five stray cats over the last decade, I'm aware of how deeply rewarding the process can be. Although adopting a wayward kitty might seem like a tall order at first, people are often surprised at just how quickly they assimilate in their new surroundings. Currently, approximately 3.2 million cats in the United States need forever homes, which means there's no shortage of four-legged friends to love.
Obviously, families who are considering taking in the neighborhood stray should be certain it's not someone else's pet first. Thankfully, there are a few easy ways to tell if the kitty already has an owner. "Not all outdoor cats will wear a collar, but many will," Zay Satchu, DVM, Bond Vet's cofounder and chief veterinary officer, told POPSUGAR. "You can also look at their physical appearance. Do they look well-nourished? Do they look clean? Do they have any visible wounds or large patches of hair loss? You can often visually differentiate between strays and human-owned companions."
"Do they look well-nourished? Do they look clean?"
Additionally, potential adopters should be especially careful with feral cats, aka felines who live outdoors and aren't...