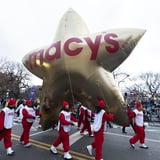 It's hard to think about Thanksgiving without the Macy's Thanksgiving Day Parade - the floats, marching bands, popular performers, Broadway performances, and, of course, that appearance by Santa. But with the ongoing coronavirus pandemic canceling most major public events and health and safety becoming a top priority, will the parade go on this year? The answer is yes - but it's bound to look different.
Macy's announced it will make changes to its popular New York City event due to the pandemic, but the show - in some way - will go on. "For more than 90 years, Macy's Thanksgiving Day Parade has kicked off the holiday season with its signature entertainment spectacle, making it one of the world's most beloved events," the company said on its website.
So how exactly will the popular turkey day parade look? While it typically draws crowds of nearly 3.5 million people and 8,000 volunteers, Macy's announced that the number of participants in this year's parade will be reduced by roughly 75 percent. And instead of following the parade's usual route, it will be held in just one area of the city and be prerecorded. New York City Mayor Bill de Blasio said in recent press conference:...