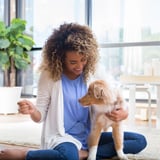 No spoiler here: puppies are adorable, they're fun . . . and they're a lot of work. Between potty training and teaching them tricks and basic commands (like to sit or stay), dogs can take a lot of work and patience, especially when you first start training them. And for new puppy owners, you may be wondering when puppies should start their training, or how long it take to stick. We asked the experts for answers.
Related: Struggling to Create a Routine For Your New Puppy? Here's How to Do It
When Should I Start Training My Puppy?
It's typically recommended that puppies begin training between two to four months of age, Dr. Shelly Ferris, DVM, regional director of Petco Veterinary Services, told POPSUGAR. Of course owners can do a combination of home training and puppy training classes that tend to focus on socialization and proper behaviors, including how to potty train or how to curb undesired habits like chewing, jumping, or digging.
"Any experiences the puppy has during the socialization period between three weeks and three to four months old can affect their behaviors later in life," she says. "Studies have shown that puppies that are isolated during this time are...