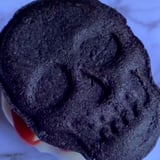 @the_keto_dealer

💀🍔 Spooky, Scary Skeleton Burger #keto #chaffle #skull #blackfood #burger #halloweenrecipes #ketorecipe #easyrecipes #quickdinners #spooky

♬ Spooky Scary Skeletons - LVCRFT
We didn't think the perfect Halloween-themed meal existed before today, but now we know it definitely does. This spooky, scary skeleton burger by TikTok user @the_keto_dealer has just the right amount of ghostly whimsy with its black skull bun and is spiced with serrano peppers for a hair-raising kick. It is surprisingly keto-friendly, too, with simple, nutritious ingredients and a blink-and-you-miss-it preparation that's seriously quick. You can serve this burger to celebrate the entire month of October, as an All Hallows' Eve lunch, or just to get a bit dark 'n' spooky whenever you feel like it.
To make this petrifying treat, start off by making the keto-approved bun. Combine one egg with three tablespoons almond flour, a tablespoon sour cream, 1/4 teaspoon baking powder, a teaspoon water, and a splash of black food coloring. (If you don't have black food coloring, simply combine one part blue food coloring with two-and-a-half parts green food coloring and three parts red food coloring.)...