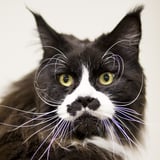 As someone who has lived with multiple cats for her entire life, I can confidently say I've seen pretty much everything when it comes to kitty health. And while I've dealt with worms after adopting strays and helped a senior cat battle liver disease, few things have scared me more than watching my 10-year-old kitty, Big Momma, chew off her fur.
Initially frightened by this development, I immediately took her to the vet. After she got treated for having crystals in her urine, switched to a new food, and was prescribed steroids, we thought the problem was officially dealt with. Unfortunately, just a few months later, the chewing continued. Now officially bald on half her body, I reached out to another vet to get to the bottom of Big Momma's recurring issue.
Related:
We Asked 2 Vets to Explain Exactly Why Your Cat Stares at You So Much
Why Is My Cat Constantly Chewing Her Fur?
Because overgrooming is such a common occurrence in cats, there are several reasons your baby may be going to town on his or her own coat. While there's a wide range in terms of...