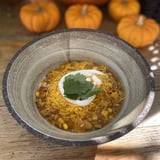 There's no meal that screams fall quite like chili does. Besides being hearty, warm, and packed with savory flavors, chili is easy to make and can be tweaked in a variety of ways to incorporate different elements. For the most part, chili includes staples like beans, tomatoes, and some sort of protein. This Trader Joe's turkey chili encompasses all the basics of the classic dish but adds fall's most beloved ingredient: pumpkin!
There are quite a few reasons to love this chili. First and foremost, it's incredibly delicious, and every ingredient in this recipe compliments one another perfectly. One of my favorite parts about making this dish was that you only use one pot to cook the whole thing, which means easy cleanup! And finally, this recipe makes a big batch of chili, so you can definitely feed a lot of people and count on leftovers to get you through the week. And, of course, everything you need to make this recipe can be found at Trader Joe's, so getting the ingredients and cooking everything is a total breeze. The next time you're stumped on what meal to make on a *chili* day, I highly recommend giving this one a try!
Related: Taste Autumn's Finest Flavors When You...