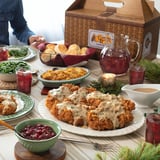 While things might look a little different this holiday season, it's important to still (safely) celebrate the traditions you can, like spending time with loved ones. To help ease the stress of planning your Thanksgiving feast, Cracker Barrel is rolling out new meal options for their guests whether they'll be enjoying their turkey in-store or at home this year.
Along with their tradition Heat n' Serve options, the Southern country-themed restaurant chain will be offering guests Heat n' Serve family meal options to accommodate smaller group gatherings of four to six people, a Cracker Barrel media relations spokesperson told POPSUGAR. In an effort to help reduce crowds, Cracker Barrel will be rewarding a $5 gift card with every Thanksgiving Heat n' Serve Family Dinner and a $10 gift card with every Thanksgiving Heat n' Serve Feast for patrons who pick up their orders early on the Monday or Tuesday before Thanksgiving.
As we near the holiday, options for online ordering as well as more information will become available on Cracker Barrel's website. Below you can find Cracker Barrel's 2020 Thanksgiving meal offerings (prices may vary by location).
New Country Fried Turkey Family...