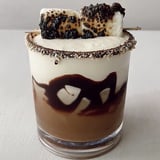 @join_jules

Day 7: Pumpkin Spiced S'more #FallAesthetic #StrapBack #fyp #foryou #drink #halloween #spooky #halloweenathome #october #cocktail

♬ original sound - Shalfi
As often as I bring home Starbucks's pumpkin spice coffees from Starbucks, my boyfriend brings home six-packs of Samuel Adams's Octoberfest beer. It's just part of the fall season. But as much as I love pumpkin spice everything, the flavor is fairly limiting when it comes to drinks. There are only so many variations of pumpkin spice coffees you can drink before they start to lose their charm, and if you're not a beer drinker, Octoberfest-style lagers are out of the question, too. Thankfully, this spiked pumpkin spice drink from Join Jules (@Join_Jules) on TikTok has us covered. It's a Pumpkin Spice S'more Cocktail, to be specific, and it's basically everything we love about pumpkin spice and more.
The base of this cocktail consists of peanut butter whiskey and coffee liqueur, more commonly known as Skrewball and Kahlúa, respectively. If you have a peanut allergy, salted caramel whiskey is a great alternative to Skrewball. Start by rimming a six- to eight-ounce glass with chocolate syrup and graham cracker...