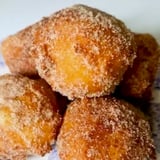 @caughtsnackin

2 ingredient doughnuts! 😎🍩 #doughnuts #hack #recipe #snack #cinnamon

♬ What If (I Told You I Like You) - Johnny Orlando & Mackenzie Ziegler
If you love doughnuts - and really, who doesn't? - prepare to have your mind blown. Instead of having to leave the house in search of this doughy deliciousness, you can make your own in less time than it takes to do a doughnut run. This two-ingredient doughnut hole recipe from TikTok user Caughtsnackin (@Caughtsnackin) looks so delicious, it's hard to believe it's so simple. Proceed to your kitchen immediately, because you're going to want to make this recipe right now.
Since it requires so few ingredients, you might not even need to make a trip to the store before getting started. To make the batter, just combine self-rising flour and plain yogurt. Shape it into balls, deep fry them in oil, and roll in them in cinnamon sugar - OK, this could technically be considered four ingredients, but it's still not any less amazing - and you have a perfect batch of doughnut holes.
They're always delicious, but when you make doughnut holes yourself, they taste even better. Whip up a quick batch for a solo snack anytime you have a...