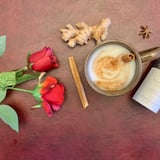 Chai has been synonymous with home since I can remember. Any Indian person can relate to the feeling of nostalgia you get when you take a sip of hot, black tea blended with frothy milk, ginger, cardamom, and other spices. Every morning at home begins with a cup of chai, and every guest who comes into our home is greeted with a fresh, hot cup paired with samosas and Parle-G biscuits.
Chai isn't just about the warm spices and flavors - it's about the act of sitting with loved ones while serving it and sipping on it together. In India, chai is served in street-side cafes, known as dhabas, where locals in the community gather over the postmeal drink.
On Diwali, everything gets an upgrade - from the house decor and traditional garb we wear down to the card games we play and food we eat. In my house, even the chai we drink gets the special addition of rose petals - another traditional Indian dessert flavor. If you love tea and warm spices like cinnamon and cardamom, or you just like holding something warm in your hand as the weather gets colder, this recipe is just as easy to make as it is luxurious to taste. The indulgent taste always puts me in the mood for the Indian festival of...