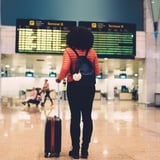 Last December, I spent a winter evening in Boston with a group of artists, intellectuals, poets, and educators musing on what 2020 would be like for everyone in the room and creating a vision board for my goals for the coming year. I vividly remember flipping through the pages of a magazine and the words "travel the world" jumping out at me. I cut those words out and glued them to my vision board that night. I had always loved traveling and did so regularly, but the thought of actually traveling the world - maybe even moving abroad - stuck to my consciousness. Traveling pushes me past my introversion, challenges me to expand my worldview, and grows my circle of friends, so it felt like the perfect goal to strive toward.
When thinking about where I would actually move to in Europe, I thought about a trip I took in 2018 when I traveled to Mozambique for the first time. As I was selecting my layover city, I decided to stay in Lisbon, Portugal, for a few days, and I immediately fell in love with the art, culture, food, and music of the country. I promised myself that one day I would return, and that "one day" became a reality in 2020.
I feel as if I can't simply be - be Black, be...