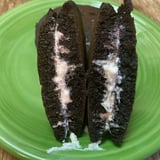 Dora cakes are a popular Japanese sandwich snack made of two fluffy pancakes with a sweet filling. One version of the tasty treat has been all over the internet recently - Oreo Dora cakes - and they're made with just three simple ingredients you likely have at your house right now: Oreo cookies, milk, and baking powder.
One nice thing about these Dora cakes is that they could be made with any version of Oreos you have on hand, from original to peanut butter to the new Lady Gaga cookies that are pink with green creme.
While the cakes are pretty easy to make when you want something sweet, it is a little tedious to scrape the creme filling off of every Oreo. But once that's done, you just blitz the cookies in a food processor for a few seconds, mix in milk and baking powder, and cook the batter into mini pancakes. For the sweet filling, you just have to melt the creme from the cookies. When the pancakes are cooked, re-add the filling by spreading some on one pancake before taking another and making a sandwich. The final product does still resemble an Oreo, just in a different form.
While this recipe does technically work, there are a few caveats to making it that you should...