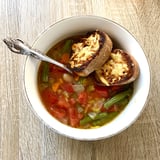 Chrissy Teigen's recipes have never let me down. From her banana bread to her drunken noodles, everything of hers I make I love, so when I discovered her minestrone soup recipe, it seemed like the perfect hearty, cozy, and healthy recipe to try in February. I already love minestrone, but her addition of chili mayo toasts take this recipe from simple to downright restaurant-quality. My boyfriend isn't a soup person, but we were practically fighting over the toasts!
The soup itself is fairly straightforward: you start with a base of onions, carrots, and celery, then add canned ingredients (thanks for the easy recipe, Chrissy!) like green beans, diced tomatoes, and cannellini beans. Read the recipe carefully, because only certain canned ingredients need to be drained. Bring everything to a boil, toss in some pasta, and cook until the pasta is tender. I'd never made soup with pasta in it, but now that I know how well noodles can absorb the flavor of the broth, I'm never going back.
The chili mayo toasts are also easy: you brush baguette slices with chili oil and mayo, then broil until toasty. If you can't find chili oil, Chrissy's recipe is wonderfully simple: just simmer one...