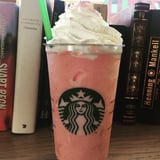 @starbucksrecipeswithm

Skittles Frappuccino!! For a venti, ask for a strawberries & creme Frappuccino w/ 4 pumps vanilla, and 1 &1/2 pump raspberry!! #fyp #starbucks #foryou

♬ original sound - Maya
Calling all Starbucks fans! You may know about Starbucks' secret Raspberry Cheesecake Frappuccino or Funnel Cake Frappuccino, but have you heard about their Skittles Frappuccino? Yep, according to Maya, a barista known as @starbucksrecipeswithm on TikTok, it's another secret menu drink that you can custom-order.
As a Skittles lover and a Starbucks-lover, I practically melted when I heard about this combo. Even better, the ingredients are primarily berries, which is definitely one of the best Skittles flavors. If you're as excited about this as I am, here's how to order a Venti Skittles Frappuccino:
Order a Venti Strawberry Crème Frappuccino.
Ask for four pumps of vanilla syrup and one-and-a-half pumps of raspberry syrup.
Ask for whipped cream on top (can also add strawberry puree on top if you wish).
Thank your barista!
Since this item isn't on the menu, you'll have to give your barista this recipe. But if you don't feel comfortable or are too rushed to say all of those...