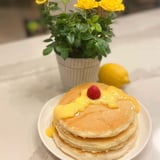 Looking to mix up your brunch game? While we'll never turn down classics like waffles, eggs, and bagels, sometimes you just need a little somethin' more to help you jump out of bed in the morning. Enter: these lemon custard buttermilk pancakes! This decadent yet simple breakfast features pillowy pancakes that are topped with a silky lemon custard that's light, tart, sweet, and so delicious.
The pancake base is simple and can be adapted to suit any taste (feel free to use whatever pancake recipe you like best). And for the custard, if you love citrus but aren't a huge fan of lemon, feel free to switch it out for orange or a blueberry compote. The lemon custard in this recipe can also be enjoyed on its own, or with strawberries or raspberries for a lighter treat on the side of the pancakes.
A major plus with this recipe is that is comes together quick (it can be whipped up in about 30 minutes), so you don't have to wait long to dig in if you wake up really hungry!
To achieve the fluffiest results, allow your batter to sit for a few minutes.
Dust in a bit of lemon zest as your pancakes cook to really get that fresh and light lemon flavor. The unexpected pairing works really...