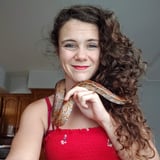 Image Source: Victoria A. Fraser
So many people adopted kittens and puppies to stay sane during 2020 that many local animal shelters actually ran out of pets, and breeders had wait lists that were ridiculously long. Though I wasn't actually allowed a cat or a dog, I was feeling the social isolation many of us were feeling, and decided I needed a pet of some sort. So I adopted a corn snake.
In March of last year, I was finally living in a house where I was allowed to have a pet snake. It's something I had dreamed of since I was 11 years old. After looking at ads on Craigslist, I found someone who was rehoming their corn snake. Instantly, I replied saying I was interested, and they agreed to sell her to me. This was it! I was finally going to have a new friend to hang out with at home and fulfill my dreams of having a pet snake. They were only a short drive away, so I folded down the seats of my car and drove over to their house to pick her up.
When I saw her, I was already in love. She came out of her rock and flicked her tongue at me when I crouched beside her tank. It was a pretty heavy glass tank, about 5 feet by 2 feet, so her previous owner helped me carry it to my car....