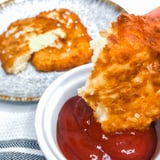 You know that scene in Big Daddy when Adam Sandler enters full panic mode when he realizes that he missed the window for ordering McDonald's breakfast? That devastation and utter disappointment he felt in 1999 is a painful sentiment that is shared amongst lovers of the golden arch's breakfast offerings to this day. And whether they reach for a warm egg Mcmuffin or fluffy hotcakes with syrup, the meal - ranked number one in fast-food breakfasts - just isn't complete unless enjoyed alongside at least one crispy, salted hash brown. And thanks to TikTok user @saucedupfoods, we can avoid the heartbreak and make the coveted hash browns at home - at any time we please - with just three simple ingredients.
For those who haven't heard the news yet, McDonald's will be rolling out All-Day Breakfast nationwide starting October 6th. And yes, we cannot be more excited to eat hotcakes for dinner.
@saucedupfoods

McDonald's Crunchy Hashbrowns #ThisorThatSBLV #food #mcdonalds #foodtiktok #foodie #tiktokrecipes #fyp #foryou

♬ drivers license - Olivia Rodrigo
First, peel potatoes and cut into thirds.
This recipe calls for parboiling your potatoes, which means boil them just until you can just...