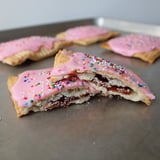 I never would have thought that anything could trump my childhood breakfast of choice, but with just a few ingredients and an air fryer, you can make homemade pop tarts that are out of this world. These homemade pop tarts are absolutely adorable, and come together with just refrigerated pie crust, strawberry jam, and a simple glaze. Everyone I shared them with told me that they tasted better than the original, and I couldn't believe how easy they were to make.
You do need a little patience for these, depending on the size of your air fryer and how many you can cook at a time. I'm lucky to have a Ninja two-basket air fryer, so the cooking went pretty quickly for me, but prepping the pie crust and crimping the edges of each pastry does take a bit of time. I promise it's worth it, though.
You'll start by rolling out the pie crust and cutting it into four rectangles. I used a water bottle to measure mine, but the recipe recommends 5"x3". Make sure you save the extra pie crust, as you can re-roll it out for more pop tarts!
Then, use your fingertip to trace the outside edges of each rectangle with water. This helps you seal the pastry. Once the edges are wet, scoop about a...