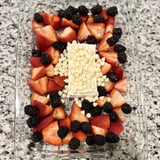 Now that the viral baked feta pasta recipe on TikTok is a permanent fixture on many of our weekly menus, it's the perfect time to try something new. Yes, we already tried the Boursin cheese and the buffalo mac and cheese versions of the baked pasta, and now we're craving something sweet! Thankfully, Delish created a dessert version of the iconic dish, featuring strawberries and blackberries instead of tomatoes, cream cheese and white chocolate chips instead of feta cheese, and muffins or scones instead of pasta. In a word, it's heavenly.
While this *may* not look extremely appetizing once you mix it all together after it bakes, I promise it really is delicious. And if the thought of warm fruit in a delicious sauce doesn't seem right, just think of pie! It's the same concept but even creamier. It's the perfect breakfast treat that is both indulgent and refreshing. I paired it with Southern-style biscuits, and I would 10/10 recommend it for either breakfast or dessert.
To make this recipe yourself, start by squeezing fresh lemons to make lemon juice and chopping up strawberries.
Wash fruit and cut strawberries.
Mix lemon juice and sugar.
Arrange fruit in pan.
Drizzle with...