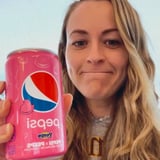 Image Source: Courtesy of Pepsi
Let me preface this by saying I'm not the biggest fan of Peeps. While I love marshmallows and have eaten them in many forms (including straight out of the bag), the Easter-themed ones in particular just never did it for me. Instead of the soft and pillowy texture of regular marshmallows, Peeps are more dense and chewy. They also taste very artificial to me (sorry to you, Peeps!). But I'm also the type of person that will try anything once, so when I saw that Pepsi was releasing a new Peeps-flavored soda, my first thought was naturally, "That sounds quite disgusting, and I would like to try it."
The Peeps-flavored Pepsi comes in three mini Easter-themed cans - yellow, blue, and pink - but the flavor is all the same, which is regular marshmallow Peeps. The Pepsi is also its normal color, so if you were hoping for a fun pastel liquid, you'll be disappointed (I was kind of expecting that too, TBH!). Also, can we just acknowledge the fact that they really should have named this Peepsi?! OK, thank you, moving on.
Image Source: Caitlin Gallagher
As for the taste, I have never related to the Kombucha Girl and her viral reaction to trying the drink more...