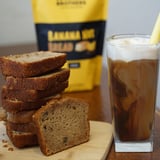 Put down your oven mitts and grab a mug, because banana bread bliss is only one brew away. If you spent all of quarantine baking and eating your way through so many banana bread recipes that it's now become your ultimate comfort food, I'm about to put you onto your new favorite coffee. The banana nut bread-flavored coffee from Berres Brothers Coffee Roasters is a must-try for anyone who loves banana bread as much as they love coffee.
Don't get me wrong, I love freshly baked banana bread, but between waiting for my bananas to become perfectly over-ripened and mentally preparing myself to not eat the whole loaf as soon as I take it out of the oven, it's a lot of work. And making this coffee happens to be a lot easier - even easier than the #BananaLatte TikToks that require caramelizing or blending together bananas, oat milk, peanut butter, cinnamon, maple syrup, and vanilla all before adding it into your coffee.
What Does It Taste Like?
As someone who intentionally avoids eating the light yellow starbursts, I'll admit I was worried this coffee might share that same artificial banana flavor, especially when I opened the bag and it smelled like straight-up banana. Thankfully, the...