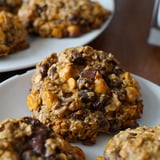 After making Michelle Obama's chocolate chip cookies, I was convinced you couldn't possibly fit any more goodies into a single batch of cookie dough. That was until I discovered Kristen Bell's version on TikTok. While the former First Lady's recipe consists of "everything but the kitchen sink," Kristen's recipe goes "balls to the kitchen walls." It's chock-full of basically every ingredient you could imagine in a cookie, and it can easily be made gluten-free too.
Kristen's everything cookies start off like a basic cookie dough with butter and brown sugar, but quickly take a left turn, because she adds in a whole teaspoon of vinegar. It might make you do a double take to add vinegar to a dessert, but just trust the process. Vinegar is actually a common substitute for yeast, and though it's usually used as a leavening ingredient in bread rather than cookies, by the taste of these ones, it's safe to say Kristen knows what she's doing.
The base flavor of the dough is reminiscent of a classic snickerdoodle, as Kristen uses vanilla, cinnamon, and nutmeg, then adds an extra hint of natural sweetness from agave nectar and applesauce. Cookie recipes usually use either applesauce OR egg...