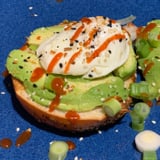 Image Source: POPSUGAR Photography / Chanel Vargas
Soaking up a runny poached egg with a piece of toast is a small but satisfactory brunch pleasure I can rarely get to experience at home - mostly because of time constraints and a level of impatience that cannot be triumphed when I'm hungry. In a move that has completely changed my brunch and breakfast game, TikTok user @healthywithalex shared a hack for cooking a poached egg in the microwave, and it only takes 90 seconds.
To start, all you have to do is add about 1/2 cup of cold water and a 1/2 teaspoon of vinegar to a large glass or mug, and stir before cracking in your egg. Depending on the wattage of your microwave - which you can usually find on the sticker inside - it might take some trial and error before you find that sweet spot when it comes to how long to cook your egg. For my 950-watt microwave, it takes anywhere between 60 and 70 seconds. (Yes, I accidentally boiled many eggs to come to this conclusion.) A pro tip: adding two eggs to the mug will roughly double the cook time.
Image Source: POPSUGAR Photography / Chanel Vargas
When the egg is ready, all you have to do is let it sit for a minute and scoop it out with...