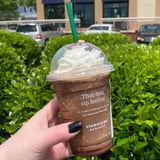 It's a well-known fact that chocolate and peanut butter are one of the best food combinations. Whether they're mixed up for candy, a drink, or even a sweet-and-salty snack, I'll always say yes to eating it, and I'll always be hooked. That's why I was so excited when I saw a Peanut Butter Cup Frappuccino on Starbucks's secret menu. It's basically just a Mocha Frappuccino with toffee nut syrup (Starbucks doesn't carry peanut butter, so the toffee nut is used as an alternative), but the slight spin on the drink gives it a whole new lane of flavor.
How to Order Starbucks's Secret Peanut Butter Cup Frappuccino
Barista Aubrey S. created this drink on starbuckssecretmenu.net. Here's how to order it:
Ask for a Mocha Frappuccino (whatever size you're in the mood for).
Ask for toffee nut syrup (2 pumps for a tall, 3 pumps for a grande, and 4 pumps for a venti).
Ask for it to be made with soy milk instead of whole milk.
Ask for whipped cream and a mocha drizzle on top.
Don't forget to thank your barista!
What Does It Taste Like?
While this drink unfortunately didn't taste quite like a Reese's Peanut Butter Cup (which is what I was hoping for), it was still super delicious. The taste was...