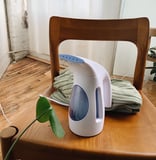 As a fashion editor who creates content online, wrinkled clothes are honestly the bane of my professional existence. I have nightmares about having to redo photoshoots because an item looks creased and unflattering. Of course, this isn't the hardest thing to solve for, but it took me some time to find a satisfying solution.
Up until last fall, I swore by a steam iron to prepare my outfits before appearing on-camera (or going anywhere really). Ironing clothes is a time-consuming process that takes serious arm strength. Smoothing every inch of a fabric requires setting up a board, and pressing against it to flatten the clothes, using heat and water. I didn't mind the challenge at first, but I learned the hard way that irons don't work well on delicate materials. And as someone who's always on the lookout for useful products that make life easier, I wondered if there was something better out there.
I looked for a while, then came across this Hilife Steamer ($26) on Amazon. It's now my go-to for straightening everything from silk dresses to linen shirts, as it does the job without taking much time. Once you fill the steamer, it will pump water through the vent holes, which you then...