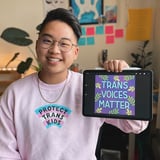 Drawing was a creative outlet for artist and activist Meg, popularly known as @megemikoart on Instagram and @megemiko TikTok, throughout most of their youth. As they got older, they wanted to continue to creatively express themselves while also sharing their journey to becoming their most authentic self, which then led them to post a YouTube video about their experience on low-dose testosterone. "I knew how badly I needed and wanted to see someone like me when I was growing up and because I never had that, I wanted to be that person for others," they told POPSUGAR.
Not only has the space to share their journey and experience been freeing and fulfilling for Meg, but they've also had many people reach out to thank them for doing so: "Knowing that I've been able to reach so many people is something I'll cherish forever."
A few years ago, Meg decided to leave their full-time job to pursue art. While it was "scary and extremely risky" because they didn't have anything set in stone when it came to their art and career path as they had also just recently dropped out of college, they decided to follow their heart. "Although I had so many recurring thoughts of self-doubt, I really...