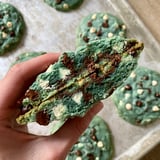 It turns out, the secret to making the perfect chocolate chip cookies has been right in front of us ever since childhood: the Cookie Monster! Who knew, right? These Sesame Street character-themed chocolate chip cookies have been making the rounds on TikTok recently, and with the addition of blue food coloring and a lot of chocolate, they captured my attention right away. They're big, beautiful, and bright blue, so I knew I had to make them immediately, and they didn't disappoint!
The key to making these cookies is chilling the dough, using a lot of chocolate, and using even more blue food coloring than you might expect. I genuinely used about 40 drops and still couldn't quite get my cookies to match the same gorgeous shade in the video. Regardless, I'm thrilled with how they turned out, and will definitely be making these again.
These are big cookies, and they need to be in order to hold the Hershey's chocolate. The recipe calls for three squares of chocolate, but I only used two to make sure it would fit. I used a three-tablespoon cookie scoop to form the bottom circle of dough, added the chocolate, then topped it with another scoop of cookie dough and molded it to fit. Like...