Details

Category: Blog
Created: Tuesday, 16 January 2018 02:38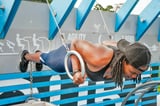 Clinay Cameron had no connections in Silicon Valley, growing up in Section 8 housing in Rialto, CA. As a kid, peers teased her about her weight, teachers talked down to her, and she endured the trauma of watching multiple gang-related shootings as a child - the first when she was just 5 years old. Today, at age 27, Clinay is a Yelp employee, an entrepreneur, a Strongman competitor, and a mentor for black and brown youth learning to code in the Bay Area who's remarkably driven to help other young women of color find success.
Cameron says it's not easy to move up in the tech and corporate worlds, especially since only about 10 percent of employees at major tech companies are black, according to company-reported data. Seventy-five percent of black women in STEM fields said they faced additional challenges, such as others repeatedly questioning their experience and discounting their success, according to a review of diversity in tech data from 2014 by the US Equal Employment Opportunity Commission.
Cameron, who lives and works in the Bay Area, is currently founding Tech Fit Creative, a marketing coworking space in the San Francisco East Bay - unique because it focuses on fitness...