Details

Category: Blog
Created: Thursday, 16 January 2020 02:38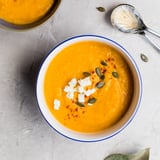 Soup options can feel endless and are the ultimate comfort food for sick days, Winter nights, or when you're feeling nostalgic and just want to feel at home. Soups are great for meal prepping and are often quick and easy to whip up, but most recipes make pretty large batches - so what's the best way to store leftovers? Freezing soup may seem super easy, but in reality, not all soups can be frozen and there are varying shelf lives depending on your ingredients. Let us break it down for you.
The best soups to freeze are stews with chunky vegetables, protein, and broth. These typically hold up well due to the nature of their ingredients - broth doesn't separate or curdle and proteins and vegetables can withstand the moisture well to keep intact. These soups can last up to three months in the freezer.
Related:
How Long Does Pizza Last in the Fridge? The Answer Might Surprise You
What you will want to be wary of is freezing anything with dairy or something cream-based. These soups can be frozen for one month, tops. Sometimes, if you leave the soup in the...