Details

Category: Blog
Created: Friday, 16 April 2021 02:38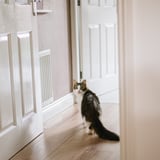 It seems like ever since I started spending more time at home the past year, my two cats, Tiny and Alfredo, have been glued to me even more than usual. They sit on top of the refrigerator (I know) to watch me cook, sleep on my lap while I am working on the computer, and love to try and block the door to my apartment when I go out to run errands.
Another habit they have formed over the last 12 months that baffles me is that they now like to stand outside of the bathroom while I am in there, almost as if they are guarding it. Every time I go in to take a shower they get in their positions on the other side of the door and stay there until I reemerge. What gives? To help learn more about another one of cats' quirky behaviors, POPSUGAR spoke to two experts.
Related:
Turns Out, Your Cat Has a Pretty Good Reason For Knocking Things Over!
As it turns out, there are a few interesting reasons why your feline friend may be posting outside of your bathroom door while you are in it. One reason, explained Dwight Alleyne, DVM, vet, medical director at Destination Pet...